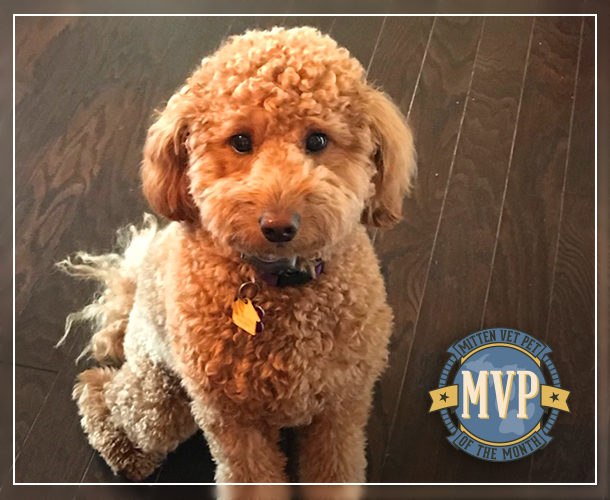 Let us introduce...ZOEY
Mitten Vet Pet of the month for November 2018.
How did you obtain your pet?
From a breeder in Frankfort, Indiana - Doodle Country Mini Goldendoodles.
How old is your pet?
2 years
What is your pets favorite pastime?
Playing fetch and cuddling up on the couch with mom during football games on Sundays.
What is your pet's favorite toy?
Any of the Kong stuffed animals that she can carry in her mouth. She has many and she leaves them all over the house.
What is your favorite thing about your pet?
Her personality for sure. She is smart and loves to be around people. She's certainly not a watchdog as she loves everybody and she thinks everyone should love her too!
Why does your pet love Mitten Animal Hospital?
Our family met Dr. Coleman for the first time when Zoey was 10 weeks old at her first vet appointment and we all knew after that appointment that Mitten was a place for us. The entire staff at Mitten has always been friendly and so professional. Zoey is happy when she arrives at Mitten for appointments and she is happy when she leaves. There was even a time when Zoey wasn't feeling well, so I took her to see Dr. Coleman. Well, she was so happy to see the staff and Dr. Coleman that I was embarrassed because she certainly was feeling great there. We will never change vets again because everything about Mitten is exactly what a vet clinic should be. Their care and love for our fur babies is genuine, but even more important is Dr. Coleman's ability to understand pet owners feelings and emotions, especially when our fur babies are not feeling well. He takes time with all pet owners, regardless of how busy he may be. And that is something that is hard to come by these days.